Emergency and Intensive Care Center
Characteristics
The Emergency and Intensive Care Center, based on cooperation with primary and secondary emergency medical care providers and fire departments, provides the highest level of emergency medical care for critical patients over multiple medical disciplines.
Below are listed the characteristics of the Emergency and Intensive Care Center.
It is the only Emergency and Intensive Care Center in Nagasaki Prefecture.
As the base hospital for the Nagasaki Prefecture Doctor Heli, with a non-public, cooperatively used heliport, we provide onsite emergency medical care as well as transport of critical patients.
Using the Nagasaki Prefecture Image Forwarding System, we provide support for medical care in the outlying islands.
We are the central point of admission for emergency patients brought from the outlying islands by Maritime Self Defense Force helicopters or Civil Defense helicopters.
We handle patients in every medical areas,
(We have NICU for premature infants in our hospital).
We provide education and training for medical personnel in emergency medicine.
In the case of major disasters or multiple injuries, we have a rapid response structure centered on DMAT (Disaster Medical Assistance Team).
We have general responsibility for DMAT in Nagasaki Prefecture.
Available Beds: 30
| | | |
| --- | --- | --- |
| ICU | : | 5 beds, ICU Private Rooms: 5 beds (including one burn unit) |
| HCU | : | 8 beds, Surgical Recovery ICU: 6 beds, Observation Room: 6 beds |
ME Equipment
3 dialysis machines, 2 burn unit beds, 1 hyperbaric oxygen treatment unit, 1 ultrasound scanner
History
| | |
| --- | --- |
| 2001 September | A 30 bed unit was inaugurated in a new facilities construction. |
| 1979 April | A new Emergency and Intensive Care Center with 30 beds was built. |
| 1978 March | First opening of an Emergency and Intensive Care Center in National Hospitals. |
| 1971 April | Starting Intensive Care Center |
Heliport Information
December 26, 2004, we received authorization as a non-public, cooperatively used heliport, and after extensive training, began operation in April, 2005. The heliport is authorized for up to Coast Guard class helicopters. We are primarily receiving emergency patients from Nagasaki Prefecture Civil Defense helicopters.
In December, 2006, Doctor Heli began operation and it flies more than 500 times per month now.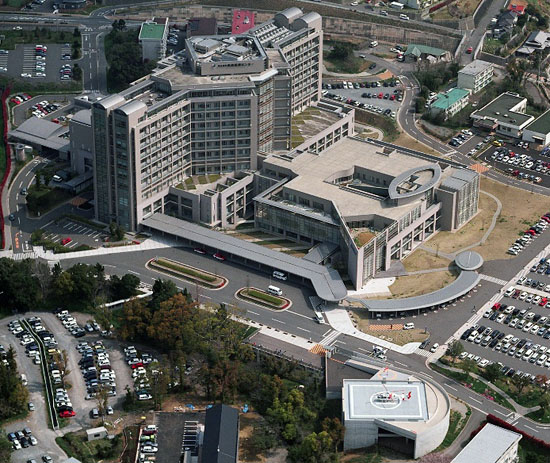 Image Forwarding System
---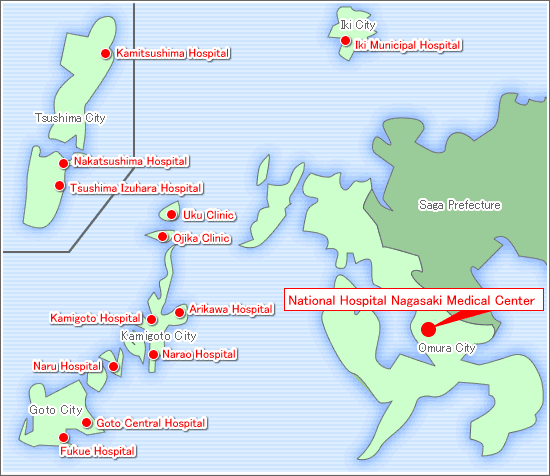 Medical Facilities Utilizing Diagnostic Imaging Support